Regular residential pressure washing is an excellent way to ensure your home looks its best and protect it from damage. Mud, dirt, lawn care chemicals, storm residues, and other debris soften exterior brick and concrete while also loosening roofing shingles and encouraging mold growth. While there are many residential pressure washing services available today, you might note some soft wash benefits versus other cleaning methods.
Soft wash systems are an excellent choice for roof washing, exterior house washing, wood deck cleaning, and virtually all other residential pressure washing services you need to have done, while grease and oil might require power washing and other specialty cleaning.
To ensure you make the best decisions in caring for your home's exterior, note some important differences between pressure washing services, power washing, and soft wash cleaning systems. Discuss these choices with a pressure washing contractor near you, as he or she might offer personalized recommendations for your property in particular.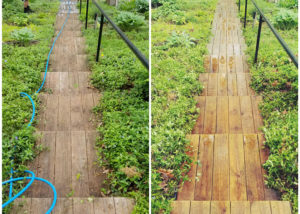 Residential Pressure Washing Versus Soft Wash Systems
Pressure washing refers to any cleaning using high-pressure water. Power washing uses hot water, typically applied at higher pressures. Soft wash systems start with specialty detergents, designed to dissolve thick dirt and mud. While each offers advantages for exterior house washing, note some added information about these services and their differences:
Residential pressure washing, using low-pressure washing and rinsing, removes some surface dirt and mud. Most pressure washing equipment, especially lightweight brands rented out to homeowners at hardware and home improvement stores, is often too underpowered for deep cleaning of brick, concrete, and other such materials.
High-pressure washing might remove more dirt but also loosens roofing shingles, strips concrete paint, splits and cracks wood decks and fences, and otherwise damages many surfaces and materials around a property. It's also typically unnecessary for thorough cleaning!
It's easy to damage landscaping and a property's lawn with high-pressure washing. An inexperienced pressure washing contractor might slice right through your shrubbery or lawn, damaging those features and creating a muddy mess.
High-pressure washing often creates splatter that easily dries along siding, glass, and other surfaces, leaving behind an unsightly mess.
Power washing dissolves oil and greasy stains and kills mold spores but hot water used in pressure washing also leaves behind unsightly streaks along wood surfaces especially.
Power washing with hot water is also dangerous for anyone operating pressure washing equipment. Hot splatter might cause skin and eye irritation and burns and other such injury.
Detergents used for soft wash systems dissolve thick dirt and grime, eliminating the need for high-pressure rinses.
Soft wash surfactants also seep into the hidden areas of a roof, between and under shingles, flashing, and other materials.
Specialty scrub brushes loosen dirt, sand, and other debris along concrete, patio pavers, and other surfaces, eliminating the need for high-pressure rinsing.
The specialty detergents used for soft wash systems also eliminate the need to wash and rinse surfaces repeatedly, for a thorough clean. Residential pressure washing is typically faster when you choose soft wash systems.
As soft wash pressure washing typically requires less water than power washing or pressure washing services, it's also an eco-friendly means of keeping your property clean!
Why Do You Have to Power Wash a House
Whether you choose standard residential pressure washing services, soft wash systems, or power washing, note some reasons to ensure you don't overlook this valuable service for your property!
Over the years, mold, moss, algae, and mildew grow and develop outside homes. These substances are unhealthy for anyone trying to enjoy your outside space, while mold and algae especially also loosen and eat through roofing shingles.
Mold and other substances also grow easily along wood decks and fences, working their way into cracks and crevices in the wood, splitting and chipping this material while creating a very unhealthy outdoor space. Mold and mildew are also very unsightly and detract from your property's appearance!
Storm debris works its way between roofing shingles, loosening them and increasing the risk of shingles flying away in a storm or strong winds.
Soot, air pollution residues, dust, and other debris dry out shingles. Dry shingles become brittle and tend to crumble and fall away from the home.
Mud and dirt hold moisture against a home's surface, softening brick and exposed concrete, increasing the risk of cracks and resultant water damage inside the home.
A dirty home exterior detracts from your property's entire appearance! Dirt, mud, and other debris might make your home seem rundown, outdated, and neglected, no matter its overall condition inside and out.
Residential pressure washing removes not just dirt but also insect nests and termite tunnels, reducing the risk of these bothersome pests making their way into the home.
Professional pressure washing services reveals areas needing repairs. You might not even see cracks along exterior brick walls or the home's chimney, or chips and splits in wood decks and fences until you schedule power washing services! Timely repairs ensures damage doesn't get worse.
Window washing improves your view both inside and out! Clean windows allow in more sunlight and increased sunlight is healthy for you and your plants, while also making your home's interior seem more welcoming overall.
What Is the Best Time of Year for Residential Pressure Washing?
A power washing contractor near you might be able to pressure wash a house virtually any time of year except winter. However, this doesn't mean you should power wash a house at any time! One factor to consider is your area and standard weather conditions.
For example, homes in the tropics might benefit from residential pressure washing after summer, when the stormy season is over. Homes in areas with long winters and heavy snowfall might need residential pressure washing in springtime, to remove storm debris and snow clearing salt from exterior walls and exposed foundation concrete.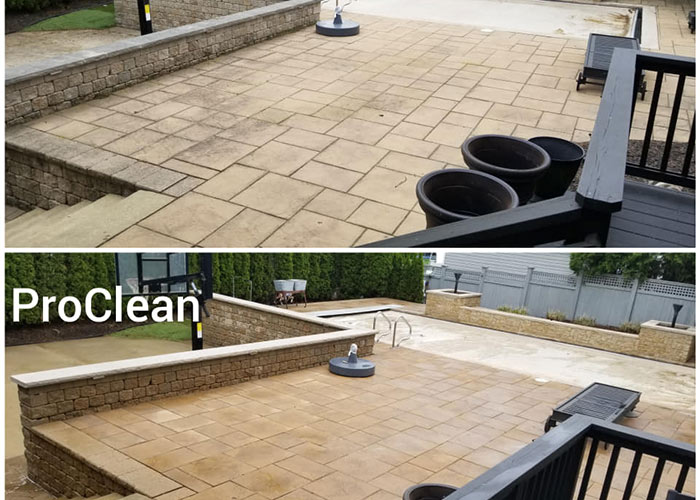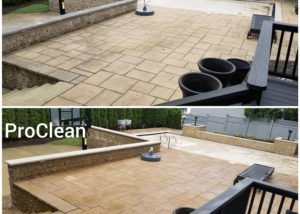 Your own schedule might also dictate your residential pressure washing schedule. If you tend to entertain and cook outdoors during summertime, consider deck washing in springtime, to ensure the space is clean and pristine and ready for company. Exterior house washing in the fall removes traces of smoke and ash left behind from your outdoor grill as well as residual grass clippings and any lawn care chemicals clinging to those clippings!
Note that motor oil and other such petroleum-based fluids break down asphalt binders, leading to potholes and other such damage. If you have an asphalt driveway or other surface on your property and work on cars throughout the summer months, or also own a car that tends to drip oil, consider driveway power washing before wintertime. Snow and ice lock that oil onto asphalt's surface, leading to corrosion and damage, while soft wash systems remove that oil and ensure a clean surface free of damage.
Does Residential Power Washing Cause Mold?
One common reason homeowners often forego residential power washing is that they believe it causes mold and other such water damage. It's true that high-pressure washing allows water to seep into cracks and crevices of exterior walls and other surfaces but this is one very vital reason for choosing soft wash systems and leaving this work in the hands of pros!
As a soft wash system doesn't use high-pressure rinsing, it's less likely to push water into cracks and crevices of outside walls and residential roofs. A professional power washing contractor near you also ensures to check for cracks, chips, holes, and other surface imperfections along your home's exterior, and avoid those areas or adjust their cleaning processes as needed.
It's also vital to realize that residential pressure washing removes mold! Soft wash surfactants or the hot water used for power washing kill mold spores and keep it from growing and spreading. Rather than worrying about causing mold, consider how residential pressure washing is an excellent way to kill developing mold spores. Removing mud and other debris also decreases the risk of mold growth overall.
Related Questions
Is power washing bad for vinyl siding?
High-powered pressure washing easily dents vinyl and aluminum siding while also making holes and other damage far worse overall. To avoid this damage, invest in soft wash systems for your home no matter its building materials.
How long does it take to power wash a house?
While most residential pressure washing services might require just a few hours, never assume that a fast job equals a thorough job! A reputable power washing contractor near you should inspect your property or areas needing cleaning from top to bottom and then offer a quote and suggested completion timeframe, based on levels of dirt, accessibility of that area, and other such factors.
Why not DIY residential pressure washing?
Online tutorial videos are no substitute for proper power washing training and experience! Improper techniques and the wrong pressure washing equipment increases the risk of damage to exterior surfaces as well as injury to you and others. To avoid these risks, always rely on experts for residential pressure washing services.