One of the most frequently asked questions from homeowners who are considering pressure washing their concrete surfaces is, Will it damage my concrete? Pressure washing, or hydro-cleaning, can remove built-up dirt and grime and make your concrete look cleaner and newer in minutes. However, if you don't have the right tools, it can also damage your concrete. This article explains how to pressure wash concrete so that you can preserve its integrity while also getting rid of unsightly marks and stains.
What is pressure washing?
Pressure washing is a cleaning method that involves pushing water under pressure through a spray nozzle at high speeds to remove dirt and grime from surfaces. The process can be done by hand or with machinery depending on its application, pressure washing is used to clean everything from cars to concrete.
There are many reasons to use pressure washing on concrete, from removing oil stains to making an older building look new again. However, it's important to understand how pressure washing concrete can affect its appearance and integrity in order to be sure you're using it properly. There are precautions you should take when pressure washing concrete and methods that can help keep your surface intact.
When should you pressure wash a house?
Concrete is a strong, durable material that can last decades when properly cared for. However, it will start to break down over time if you don't keep it clean. That's where pressure washing comes in. Pressure washing or power washing gives you a safe way to remove mold and mildew from your concrete surface. The best part about pressure washers is that they are super-easy to use.
Because you don't need any heavy-duty machinery or special training to use a pressure washer, it's easy to use it regularly. Doing so will keep your concrete surface looking its best for years to come. However, if you aren't careful when pressure washing, you can damage your home or concrete.
Which types of surfaces can be pressure washed
Some pressure washers are only built to clean one type of surface, but most models can be used on multiple surfaces. For example, a unit capable of cleaning both concrete and wood is a high-pressure model. On the other hand, if your pressure washer is solely for concrete, it will be labeled as such. Keep in mind that you need to use specific tools when using these types of washers. You also may want to consider safety factors when using different materials.
If you're unsure about which material your pressure washer can clean, check with your manufacturer for guidance. Typically, professional machines can be used to clean more types of surfaces than consumer models.
Overall it's acceptable to use a pressure washer on concrete, wood, brick, tile and more. If you're still unsure about using your pressure washer on any surface, always consult with your local hardware store or contractor first.
Concrete is a very durable material. However, it can be damaged if not maintained properly. Most people who hire professionals to clean their home's walkways are doing so because they have not been able to keep up with concrete maintenance on their own. The main reason for its popularity among consumers is that concrete lasts longer than other types of surfaces and requires little maintenance over time.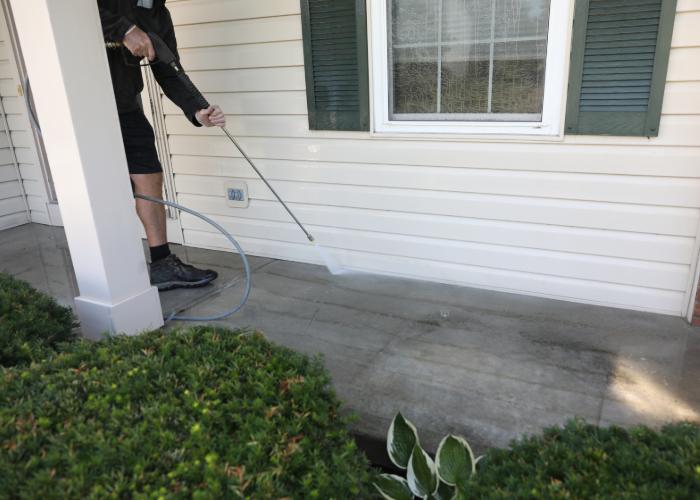 Common mistakes to avoid when pressure washing concrete
Pressure washing concrete is a lot different than cleaning other materials. Remember that it takes more than just water to clean your home's driveway, walkways and garage floor. Below are a few tips from experts to ensure that you're doing it right.
First, make sure you choose a high-quality product that contains no additives or soap. Lye, bleach and other soaps can leave residue on your driveway and walkways. These residues will repel water and encourage mold growth. Second, make sure you aren't using a pressure washer with an appropriate PSI. If your pressure washer is too powerful it can damage your driveway or garage floor. If it isn't strong enough it won't clean properly and leave dirt behind. Third, make sure you're not too close to your driveway or garage floor. Experts recommend 10-15 feet away, and some even say as far as 30 feet. It all depends on how powerful your pressure washer is and how sensitive your concrete is. 
Best method to clean concrete
The first step in pressure washing is determining the right equipment to use . There are two types of power washers, electric and gas-powered. Gas-powered units tend to be more powerful than electric ones, so they're good for heavy jobs like stripping paint or for breaking up caked-on dirt and grime. But electric models are more versatile, so you can move them around easily as you wash surfaces.
Once you've picked your equipment, you'll want to prep your concrete surface before cleaning. The best way to do that is with a broom and moving anything that's on top of the concrete.
The last step before cleaning is to pick the best chemicals to use. Using a concrete-specific chemical cleaner can help you avoid damaging your surface, since it's designed specifically for concrete and has enough moisture in it to break down grime and dirt effectively. After you've cleaned with a chemical cleaner, you can finish up with plain water to make sure everything's rinsed off well.
Make sure you keep safety in mind while you're pressure washing a concrete surface. You don't want to accidentally damage your home or injure yourself, so it's important to follow all of your equipment's instructions and be mindful when using it.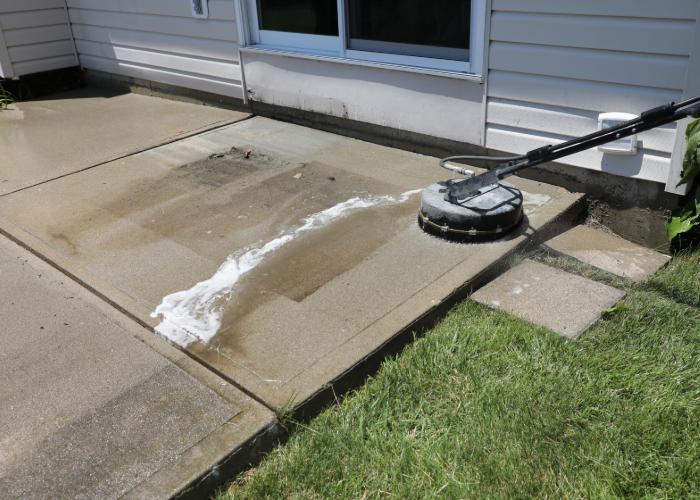 Who should complete concrete pressure washing?
Pressure washing is not a DIY project. Keep in mind that if you're unfamiliar with the process or don't have time, consider hiring a professional pressure washing company like our team at ProClean Power Washing Northern Michigan. By hiring someone you not only pay for their labor, but you're also paying for their experience. They know how to get the job done to provide superior results without damaging the concrete or your home. Keep in mind that pressure washing is particularly hard on houses with vinyl siding, which can be easily damaged by water blasting. Unless you are very careful, there is a good chance that debris from your house will end up embedded in the concrete – these pieces of debris will eventually lift off and resurface on your driveway or sidewalk leaving behind unsightly marks.
The average cost to pressure wash a driveway is $100 to $500. That's a small price to pay compared to the costs of potential property damages if you don't know how to pressure wash.