Consistent residential pressure washing in northern Michigan offers many benefits for your home, and especially when you consider the harsh weather conditions typical in this part of the country! If you've been putting off regular power washing services for a northern Michigan home or assume that DIY pressure washing is sufficient, note some reasons it's time to call a power washing contractor near you!
1. Protect Shingles With a Roof Wash in Northern Michigan
Roof washing a northern Michigan home protects shingles, flashing, and other materials. Storm debris as well as bird droppings, soot, acid rain residues, twigs, and other such materials soften or dry out asphalt shingles. These residues also work their way into the cracks and crevices of a roof and between tiles and flashing, loosening them.
A thorough roof washing in northern Michigan removes damaging debris while also exposing areas of needed repairs. Shingles are protected from damage while flashing and other materials are less likely to pull away from the roof, adding to your home's overall protection. A roof wash of a northern Michigan home also improves curb appeal in an instant!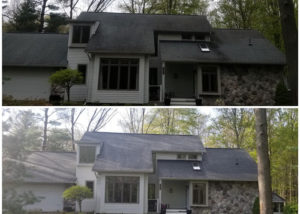 2. Surprising Benefits of Exterior House Washing in Northern Michigan
Exterior house washing in northern Michigan also improves curb appeal, while protecting brick, siding, and other materials from damage. Mud, dirt, dried dust, and snow clearing salt and other chemicals etch away at brick and siding, while also encouraging mold growth.
Northern Michigan house washing removes damaging dirt and mud as well as unhealthy mold and mildew, for a cleaner and more attractive outdoor environment. Pressure washing services in northern Michigan also wash away harmful and bothersome insect nests, keeping these pests out of your home and away from you, your children, and your pets!
Regular pressure washing of northern Michigan homes even exposes areas of needed repairs. You might not notice cracks running up exterior brick walls or along exposed concrete foundations until you invest in power washing for your home. Timely repairs keeps that damage from getting worse and protects your home from interior water leaks and resultant mold growth.
3. Why You Need Professional Gutter Cleaning for a Northern Michigan Home
Never overlook the need for professional gutter cleaning in northern Michigan! Gutters capture rainwater rolling off the roof, directing it to nearby downspouts and away from the house. When clogged, those gutters allow rainwater to wash over their sides or back up to the roof. Asphalt shingles absorb water, getting soft and crumbly and falling away from the home's structure.
Rainwater falling over the gutters leaves unsightly streaks along exterior walls and collects around the base of the home, leading to foundation water damage, cracks, and interior water leaks. Water sitting in the gutters attracts bothersome insects while also encouraging mold growth.
Cleaning gutters by hand or using a garden hose is typically ineffective and insufficient, as well as cumbersome and downright messy! Soft wash systems make quick work of gutter cleaning for northern Michigan homes, dissolving thick dirt and mud and keeping gutters free of clogs.
4. Protect Concrete With Driveway Pressure Washing
Concrete is very durable but still suffers cracks, chips, and other damage over the years and especially when exposed to snow clearing salt, lawn care chemicals, automotive fluids, and other corrosive substances. Sand, silt, and other gritty debris as well as dirt and mud settle into pits and pores of concrete, creating an unsightly and rundown look around your property.
Driveway pressure washing of a northern Michigan home removes corrosive and damaging debris while ensuring solid surfaces look their best. Soft wash systems also remove damaging chlorine residues and other chemicals from pool decks, for a safe and healthy surface you'll love during summertime.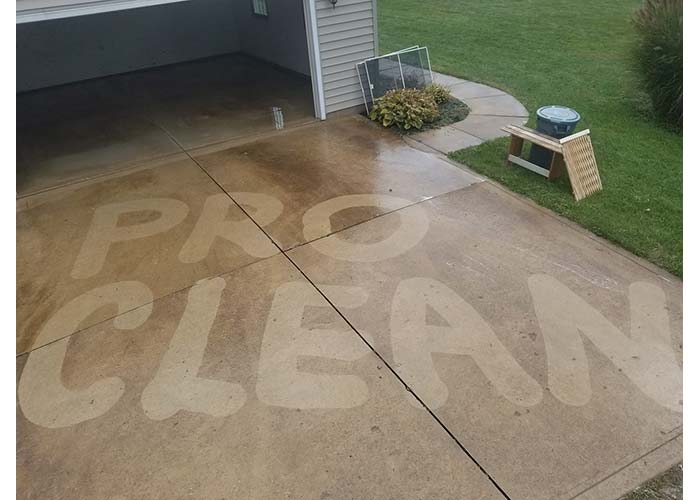 5. Why Choose Residential Pressure Washing for Decks and Fences
Washing wood decks and fences is not as simple as you might assume! Hosing off these surfaces with a garden hose removes surface dirt and some mud and dust, but this process is insufficient for washing away mold, mildew, algae, and ground-in dirt. Renting pressure washing equipment is also a good way to leave behind streaks and unsightly swirl marks, or chip and split wood surfaces!
Residential pressure washing of northern Michigan homes removes mold, moss, and other unsightly debris from decks and wood fences without chipping, splitting, or damaging the material. Power washing also removes ground-in dirt and mud, leaving behind a clean and pristine surface looking its best and safe from damage.
Why Avoid DIY Pressure Washing in Northern Michigan
While pressure washing services in northern Michigan protect a home from damage and improve its curb appeal, don't assume you should rent power washing equipment from a local hardware or home improvement store and tackle this job yourself! One reason to avoid DIY pressure washing is that the equipment is more difficult to handle than homeowners realize, so that you might create unsightly splatter or slice right through landscaping features while washing your home.
Pressure washing a northern Michigan home especially takes some experience and knowhow. A pressure washing contractor, for example, might start at the bottom of the home and work their way up when washing, to loosen dirt and winter debris. Starting from the top is less effective and takes more time to complete the job!
Using undue pressure also increases the risk of unsightly swirl marks, streaks, and other such surface damage, especially along soft surfaces such as wood decks and fences. High-pressure washing also increases the risk of outright shattering a window or glass fence, and of stripping paint from concrete and other surfaces.
How to Choose a Pressure Washing Contractor in Northern Michigan
To choose a pressure washing contractor for your home, ensure you find one that specializes in residential power washing. A general contractor with rented pressure washing equipment is not the same as an experienced power washing company with trained professionals on staff!
It's also vital that you choose a company that offers a variety of northern Michigan residential pressure washing services, so you can schedule roof washing, gutter cleaning, and all other services at once. You'll then ensure a quality job and know that you'll have a clean and pristine home and property ready for entertaining and protected from long-term damage.